THE TERRITORY OF THE DISTRICT
Full of history, the area surrounding San Mauro offers beautiful landscapes.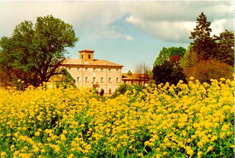 Populated since ancient times, the territory in the district tells its story with ancient Roman furnaces in San Mauro and Savignano, and the Neolithic findings in the countryside.
Crossed by the Roman bridges of the Emilia Road in Savignano sul Rubicone and in the countryside of San Vito, the area of San Mauro stands out also for the Medieval castles of Ribano and Gatteo and the 18th century villas in Savignano that describe the countryside nobility linked to culture and art.
Such as Villa Torlonia: Torre Giovedia in the Dark Ages yet, besides representing an exceptional example of Romagnol villa of the XVII-XVIII century, it hedges in its walls the memory of one of the best- known Italian poets, Giovanni Pascoli, born here in San Mauro. Here, on the 10th August 1867, Pascoli saw his faithful "dapple- grey horse" – that would have inspired the famous poem – coming back home bringing the poet's father , murdered by unknown people.
Silently, in this territory already known for the industries, fashion and tourism, the Accademia dei Filopatridi in Savignano and the Accademia Pascoliana in San Mauro carry out the important tradition linked to culture and literature studies.
A special attention is given to the cultural and folk events; the famous
Si Fest,
the festival of photography in Savignano, the Garden of Poetry at
Casa Pascoli
, the
Pig Town festival
di Villa Torlonia in Villa Torlonia and the Feast of the Sea Shell, in Summer in
San Mauro Mare
.
The gastronomy is another attraction in the territory, with a fan of special plates that does credit to the true romagnol cuisine. From the famous piadina to the innumerable wines, above all theSangiovese. In the smooth hills surrounding the territory, in fact, the agriculture is among the main activities, thanks to a fertile and flourishing land that gives first-rate products.
Getting closer to the coast, anyway, the land changes its color and, form Spring to the first days in Autumn, it becomes the favourite destination because of the sun, the sea and the warm romagnol nights. Culture and nature, sea and hills, fun and opportunities: this is the territory of San Mauro, a town with an important past and a bright future.