BALDININI DRAWS INSPIRATION FROM THE EIFFEL TOWER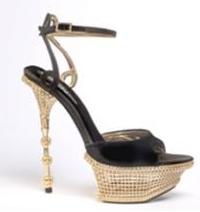 On the 120th anniversary of the construction of the world famous Tower, Baldinini pays homage to Gustave Eiffel realizing, limited edition, a black velvet sandal available also in open-toe version.
The golden cage that builds the spire heel and platform is a single piece, made of tenacious ultra light league, without joints. The foot leans on silk velvet.
A unique work realized thanks to the design that followed the audacity of the architecture.
« Back to list