MICROINJECTION: A PATENT BY CASTELLANI LASER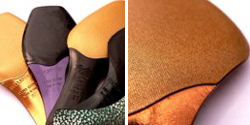 In 2003, Castellani Laser patented a rubber sole that lets inject 6/10 of millimeter of thermoplastic material in an inset of low thickness that can be matched with "zero bottom" leather soles typical of refined women's shoes.
It's a microinjection of rubber that, despite an intense use of the shoe, keeps the shape for a long time and leaves the shoe flexible: the thin line and the folding on the trim make the sole not flatten under the body weight and grant a long lasting comfort. This is a great benefit for those who wear shoes.
« Back to list