GREAT STYLISTIC RESEARCH AND TECHNIQUE FOR THE FOOTWEAR OF GIUSEPPE ZANOTTI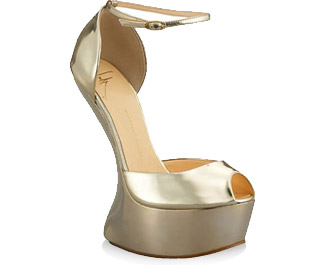 fter having proposed dizzy stiletto heels and space age wedge, Giuseppe Zanotti still surprises the audience proposing a shoe without heel, an exclusive model whose elegant and sinuous shape reminds of a woman's silhouette.

Thanks to a deep research, both in style and in technique – it's a high innovative product from all point of views – the shoe gives the impression to be suspended in mid-air, even if granting a perfect stability. As the stylist says "this model is not only a sculpture-shoe, but a shoe that has a very good fit and lets the woman heighten of 16 cm in complete safety". This detail hasn't been missed by all the celebrities and stars all over the world, as they have required this peculiar model called "Adele" by the stylist – for musical video, shooting and red carpets.
« Back to list