THE CARBON SHOE BY GIANVITO ROSSI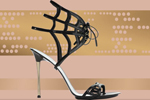 "The stylistic component is sometimes too deaf to the canons of portability". This is the opinion of Gianvito Rossi about the modern production of footwear. "From my experience I have understood that women today seek the novelty without precise quality codes and style. They are women with an independent taste that prefer an elegant, modern, personalized and convenient aesthetic to the logo itself'. A mix that is perfectly found in the sandal fiber signed by the stylist.
"Born for aerospace purpose and used in sports as the single-seat Formula One, the carbon fiber is a technological and highly lasting material. The construction, the volume and the colors of our sandal 'an exclusive product that weighs only 100 grams and is covered by international patent' are all elements that contribute to the expression of an idea of pure design and manufacturing execution for giving priority to the respect of practicality, comfort and elegance".
« Back to list