SERGIO ROSSI AND THE ECO PUMP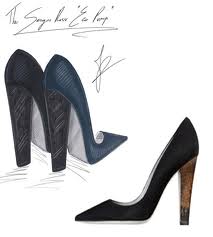 In the footwear sector, the approach to an eco-friendly development has been introduced, with great success, by SERGIO ROSSI company, that, in 2009, has launched a collection of elegant, fine, and totally biodegradable shoes.
It was an avant-garde project, and for that Rossi worked with one of the most important Research Centre in alternative materials in Europe, the German department Fraunhofer Institut.
The Eco Pump was born from this cooperation, they are luxurious pumps realized in leather, with biological glues and wood, without any artificial chemicals. To grant the total "ecology" of the collection, furthermore, Sergio Rossi decided to donate the revenue to Good Planet, an association that promotes, since years, a lifestyle respectful of the environment. The Eco Pumps are for sale in all of Sergio Rossi Showrooms or on the official website.
« Back to list